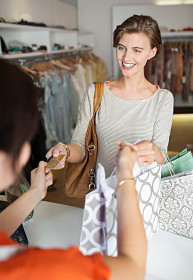 Hello and welcome to my blog. Over the last three years, technology has transformed commerce in ways we wouldn't have imagined a decade ago…for consumers, retailers and vendors alike. This has kept those of us in the retail technology advisory business very busy. I thought I would take a few minutes to visit and update a post I shared back in 2012. This blog and it's parent site Clientricity.net is a great place to find thoughful posts on how retailers can better engage, influence and inspire their best customers.
So, lets start with the basic premise that delivering a customer-centric retail strategy is essential for keeping customer, gaining market share and enhancing profitability.
At the center of that strategy is the realization that the disruptive forces of technology have changed retail as we knew it and that the consumer is in charge – ably armed with social, local and mobile technologies. Savvy retailers are finally starting to master their new reality, cutting through the hype and deploying the best new customer-facing and associate-facing solutions, supported by enhanced business practices. It is pretty clear that everyone from the world's most prestigious department and specialty stores to big box electronic giants, has some flavor of customer centricity on it's mind. Customer centricity puts the customer at the nexus of retail strategy and it is the logical evolution of retail resulting from years of depersonalized store formats and inattention to customer satisfaction. Retailers have finally realized that they can no longer simply depend upon cost cutting and optimization of their supply chain to provide sustainable competitive advantage. Instead, industry leading retailers are implementing strategies and tactics that improve top line sales, increase associate productivity, while delivering a better customer experience built on a relevant dialogue with their customers.
Today's connected consumers expect the brands they shop to intimately understand their needs and to be served consistently across all channels (e.g. in­-store, online, social media, kiosks and consumer mobile applications). They want their Omni-Channel shopping experience to be personalized, relevant, convenient and enjoyable. They are demanding more from the stores they patronize, because they have access to more information than ever before and use mobile devices and the web to learn, shop and communicate in new ways. Furthermore, the recent recession has taught them new budget discipline, making consumers less willing to compromise and more likely to defect to another retailer if an associate provides better service or more options.
Retailers need to change to succeed in this new reality. To keep customers and gain market share, they need to connect people, insight and customer relationships in new, innovative ways. Retailers need to use all the touch points available to them to learn and understand more about their customers' distinct needs, wants and desires. Doing so will enable retailers to deliver customers a personalized differentiated experience and new forms of communication through the consumer's preferred channel. If they are going to execute successfully on this new agenda, retailers will need to integrate the entire retail operation, enterprise to store with a comprehensive solution. that addresses three key objectives:
• Increase customer insight and brand communication using data analysis, business intelligence tools and multi-channel marketing with a sophisticated personal offer capabilities.
• Empower associates to personalize the experience and build relationships with customers using a combination of outreach tools (call, text, email, etc.) and in-store clienteling and loyalty tools. Extend that capability beyond the store using consumer facing mobile applications and online personalization technology.
• Provide management with real-time access to key performance and behavioral data in order to improve their decision making, assortment and business building activities.
Successfully deploying a thoughtful, disciplined and repeatable customer centric strategy can be a challenge, but if executed well, will reward a retailer with virtually immediate sales lift and improved customer lifetime value.
What is Customer Centricity?
Like so many catch phrases today, the term customer centricity is often misused, and has become the rally cry for any decision or activity that impacts the customer. In an attempt to differentiate their businesses, few retailers grasp the fundamental operational and cultural shift necessary to achieve real enterprise-wide customer centricity. Customer centric retailing requires the traditional retail model to be turned on its head. Instead of executing strategies against a portfolio of products to induce customers to buy ̶ true customer-centric retailers focus on a portfolio of loyal customers and provide products and services that meet their distinct individual needs. During the boom-boom days of retail, it was a field of dreams — 'if we hang it they will come.' Today, that simply does not work. A winning customer-centric strategy requires the development of enterprise-wide practices focused around taking absolute responsibility for a customers satisfaction throughout the entire want it, buy it, use it experience.
It is however important to note that customer intimacy and truly personalized communication can't be accomplished without knowing their communication channel preference and having access to extensive customer knowledge and product feature information. Fitted with the right tools and insight, retailers have was is needed to build relationships that bring together individually articulated customer preferences, lifestyle information and product knowledge to create high-value solutions for their customers.
Unfortunately most retailers are reactive and tend to think in terms of point solutions and quick fix solutions. Most have never developed the required all­-encompassing customer engagement methodology that will ultimately align the corporate and marketing vision with in-store execution of those best practices that improve customer service. Most often retail store-level employees ̶ those who are most directly engaged with customers ̶ are isolated. They don't have the customer and product information they need nor do they have the operational sales support tools required to meet ever demanding customer expectations. The result is unpredictable service levels, unrepeatable customer experiences, dissatisfied customers and diminished store performance.
A Technology-based Customer Infrastructure
Underlying any customer-centric initiative is some type of customer-focused technology platform. At its center, is data that provides a 360-degree view of the customer. This multi-dimensional customer, transaction and product repository may be aggregated (or accessed in real time) from numerous existing enterprise data sources including POS transaction systems, product inventory, merchandising and e-commerce. Once the master data is available, business intelligence and campaign management tools at HQ and clienteling, loyalty and product recommendation tools at store-level, transforms this underlying data into actionable knowledge.
Using workflow tools and mobile applications, customer preference and lifestyle information is collected during each customer interaction, improving customer insight and increasing responsiveness to ever more personalized and relevant corporate and store level communication. Leaders are investing in sophisticated enterprise-wide solutions, enabling management to access loyalty, marketing and campaign management tools to analyze and segment data. Armed with these, marketers can identify new multi-channel sales campaigns and deliver personalized offers directly to customers or prompt associates to take specific actions with those individuals.
There will always be many technical considerations to make this technology infrastructure a reality but this is one of Clientricity's key areas of competency. The underlying infrastructure must be secure, easily integrated and flexible enough to meet the constantly-changing needs of the retailer and consumer. In-store solutions must be highly intuitive, responsive and transportable on existing hardware as diverse as PC/POS terminals, kiosks, mobile tablets, phones and PDAs. Finally, the technology must have extensible multi-channel architecture, allowing retailers to meet their consumer needs online or via a customer's own smart phone.
The Retail Customer Centricity Playbook
The overarching objective of customer centricity is to create a value proposition that is unique and not easily repeated. Given with the right strategy, tactics and customer engagement tools, retailers can now gain a 360­-degree view of their customers. More importantly they can build a learning relationship based on individual preferences that cannot be easily replicated by other retailers. What follows is a list of things that retailers should think about.
• DEFINE: Start by defining institutionalizing your organizations operational best practices. The goal is to ensure consistency across the brand, whether it is an in­-store and online experience. Think about the customer journey and optimize for maximum value.
• UNDERSTAND: Use tools to analyze and segment your customers' buying behavior. Within the data, look for opportunities to create personalized value propositions and promotions targeted to specific customers using favored channels. Leverage structured enterprise data and unstructured "Big-Data" to enhance the efficacy of the analysis. Deploy real-time dashboards and reporting tools that are accessible throughout the organization.
• TAKE ACTION: Deploy technology such as clienteling, loyalty and assisted selling tools to sales associate with easy to use POS, PC, and handheld tablets and other mobile devices. Invest in effective change management to transform the organization and teach your team how to use the customer profile data, preferences, lifestyle information and transaction history during client interaction. Provide all users with access to key product information. Approximate what the perfect sales associate would do with information and express those workflows through intelligent self-service technologies and smart phone apps. Be sure to synchronize all activities across all channels in order to generate increase traffic, conversion and average transaction size
The disruptive impact of technological change will continue to make retail ever more competitive. Brand differentiation and relevant customer communication and improved services levels across all touchpoints are the natural defense to that competition. Implementing a customer centricity solution that incorporates clienteling, loyalty and campaign management solutions ensures a seamless, interactive environment where customers can shop over multiple sales channels delighted by associates empowered to deliver an extraordinary customer experience.
---