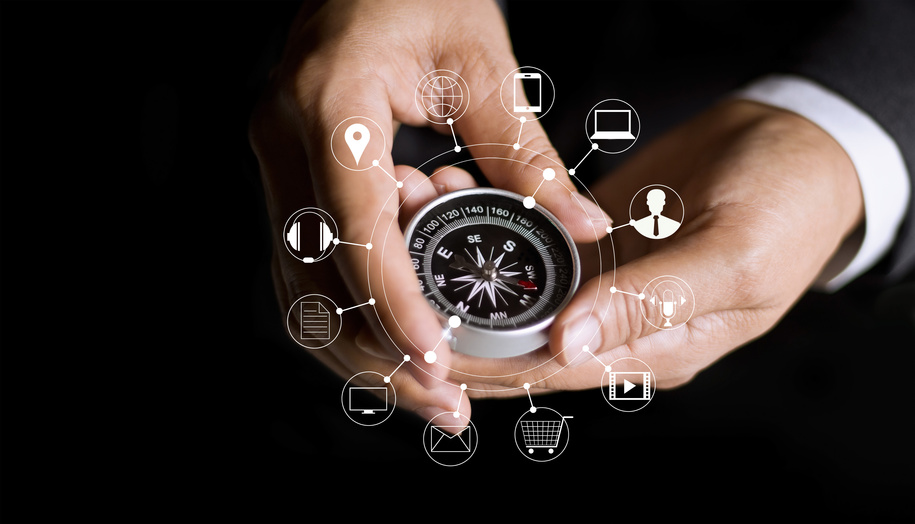 Retail is undergoing a customer-driven transformation and the pace of innovation is accelerating geometrically. This has technologists and retailers struggling with the same basic question: "With the explosion of promising new digital technologies and the shifting behaviors of omni-channel consumers, how do I know which technology investments will provide real immediate value?"
Every year the retail industry proclaims the next big thing — promising a new technology that will help retailers compete in an ever more challenging omni-commerce arena. Unfortunately, many retailers don't have a clear picture on what is actually happening inside their businesses or what investments would insure a successful future. The complexity of changing customer demand and decreasing store traffic, online competition, BOPUS, DOM, showrooming and excessive returns are wreaking havoc with traditional operational and merchandising decisions. Simply put, "true north" is illusive and many are hopelessly guessing at what to do next. In an attempt to "stay afloat" retailers are testing myriad social, proximity-based, mobile, loyalty, clienteling, digital marketing, IoT or CRM solutions.  However they are seldom the result of charting a well-defined customer engagement strategy.
So, how does a retailer cut through the noise and hype? My recommendation: start by going back to the basics…
First: Understand the Customer
Retail has always been about people and relationships. Engage customers, solve their problems and take responsibility for their satisfaction throughout the entire "want-it, buy-it, and use-it experience". Finding ways to create that satisfaction and delivering satisfying customer journeys is the foundation of a well- executed customer strategy. Success comes from knowing your customer and thoughtfully differentiating your service and assortment in ways that meet their individual desires. Every retailer has it's own unique DNA and accordingly must have its own way of expressing itself in the lives of its customers.
After years of working with some of the world's most successful customer-centric retailers, I've identified over 150 retail best practices, proven to differentiate the customer experience and drive significant incremental profitability. While it may sound heretical, it's really not about the technology… it's about the people! We recommend that retailers reflect deeply on what customers hope to experience from their brand and then select a half dozen practices/initiatives that drive customer satisfaction throughout each step of those potential customer journeys. Find the "easy wins" first and build upon those with future customer journey initiatives. Create a culture of extraordinary customer service and realize increased loyalty and revenue.
Second: Analyze the Math
Consider how any new initiative is likely to impact corporate KPI's. Retail math is pretty simple. Revenue = (Traffic) x (Conversion) x (Average Transaction Value). While everyone knows that these KPI's determine the health of a retail business, it is amazing to me how often technology decisions aren't first run through these KPI filters. Any online or store-level solution is likely going to affect one or more of these metrics. Even small changes in any one will result in significant shifts in profit. The goal is to identify which practices will drive each of these factors. Analyze and identify how the solution is going to move these metrics and consider the investment based on those projected results. We strongly suggest building out more sophisticated Business Impact Models that consider all of the potential levers a solution may impact and using that model to measure potential and realized business benefit. Remember, just because your competitors are jumping onto the latest tech trend, doesn't mean it fits your customer strategy or the KPI's that matter most to your business.
Third: Test and Innovate with Technology
Select or build solutions with functionality that supports the desired practices and strive for minimal "friction" in adoption. Use agile methodologies to innovate and test new ideas that are consistent with the unique customer journeys you've prioritized. For example, if you are trying to drive appointment sales, consider the detailed workflows of customer communication, online scheduling, task assignment and other client-centric functions. Inducing a sales associate to use a new tool can be a formidable task if there is conflict with established norms. Getting staff involvement early is critical to solution implementation success. Be clear on which behaviors you are trying to influence and bring multiple disciplines together in gathering business and technical requirements. As for consumers, most won't try new technologies (or download a retail app) unless there is immediate perceived value in doing so. If in-store mobile engagement is central to your strategy, consider how the interaction of staff can improve the customer experience through shared digital experiences. Always build or buy technologies that are intuitive and designed from the user point of view.
Disruption often leads to opportunity and retail is no exception. Plotting a course for what comes next requires a clear vision, a solid financial analysis and the application of innovative technologies. As one CEO told me, "managing business requires setting a well-reasoned course, with the right crew and vessel… then carefully steering around the rocks."
---